Building Survey & Quantity Surveying Course-Dip. in Surveying Eng|TDP Education
TD and the Hong Kong College of Engineering's Diploma in Surveying programme covers Quantity Surveying, Building Survey and Land Surveying. The Surveying course is considered as Level 3 in HK's Qualifications Framework.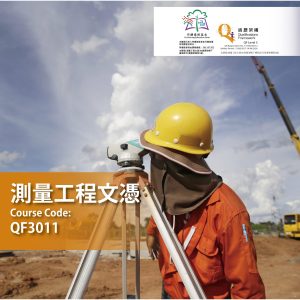 Diploma in Surveying
Recognized under the Qualifications Framework
Course Code : QF3011
QF Level 3
QR Registration No. 17/000789/L3
Validity Period: 15/08/2017-14/08/2023
This course has been included in the list of reimbursable courses under Continuing Education Fund purposes
CEF Course Code: 36L107202
This course (Diploma in Surveying) of this module is recognised under the Qualifications Framework (QF Level 3)
Course Introduction
Since the establishment of HKCE for 25 years, it has a solid foundation and a pragmatic approach. It has consistently employed professional teaching teams, trained talents in the industry, trained many surveyors and engineers, and is recognized by the industry for its academic status.
HKCE's diploma in Surveying Surveying Engineering has also been evaluated by the Hong Kong Council for Accreditation of Academic and Vocational Qualifications as Level 3 of the Qualifications Framework in Hong Kong. It is designed for young people who are interested in joining the architecture and measurement industry. Step by step on the road to a registered surveyor or engineer.
The main courses include :
Building Surveying
Quantity Surveying
Land Surveying
Extra-curricular and part-time courses take the first step to obtain professional qualifications, read as early as morning and set foot on the road to success!
Admission requirements
Completed the fifth (HKCEE) or;
Complete Form Six (HKDSE) or;
Other entry qualifications: 21 years or above; or equivalent
All students must pass the entrance interview
Assessment method
70% homework assessment
30% test assessment
Unit qualification requirements: 60% pass scores for homework and exams, and one retest opportunity for unqualified trainees
Attendance rate
The attendance rate of each unit must reach 70%
Those with insufficient attendance can not take the exam
Certificate issuance
Participants must complete 12 appointments. The attendance rate of each unit must reach 80%, and all homework and examinations must have a 60% pass score. They will be awarded the Hong Kong Qualification Certificate Level 3 Certificate by the Hong Kong Institute of Facility Engineering.
"Diploma in Surveying Surveying Engineering Diploma"